Choice of Venue
October 31, 2018
SOUTH LYON, MI — The #1 tournament in amateur golf, Carl Spackler Open, has selected Moose Ridge Golf Club and Brighton, Michigan to host its 2019 major championship. Moose Ridge is located 40 miles northwest of Detroit Metropolitan Wayne County Airport.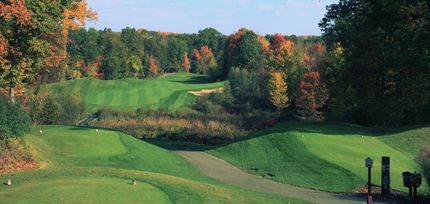 The Captains Club made the public announcement on Tuesday night just before the ultimate deadline. "Today, with excitement, we have selected Moose Ridge Golf Club to host the 2019 Carl Spackler Open," said Greg Long, Chairman of the Captains Club. "We are super excited about our golf course, but also the town of Brighton."
Moose Ridge Golf Club in South Lyon promotes itself as an "up north" golf course, in Lower Michigan. This is another Ray Hearn design (same as Grande Golf Club) that certainly lives up to all of its accolades. Moose Ridge is a top notch golf facility on 230 acres of naturally wooded, undulating land with more than 90 feet of elevation changes, this championship course has it all. Bent grass tees, fairways and greens; well defined bunkers filled with white USGA Best Sand; acres of wetlands filled with lush wildflowers and heather; numerous water hazards and a rolling terrain provide challenge and aesthetic beauty reminiscent of premier Northern Michigan properties.
Raymond Hearn has certainly done his job right: He's adept at taking great pieces of real estate and turning them into even greater courses. At Moose Ridge, he has hewn one of the tightest, most demanding courses in the state out of a former raspberry farm, paintball battleground, and dense forest.
The hallmark of Hearn designs are the strategic holes: You have to play target golf to score. Moose Ridge's fairways are ribbon-thin, and often players shoot to blind or obstructed landing areas and greens. But Hearn assists the savvy with landmarks to aim at - fairway bunkers, trees, hillocks. Unfortunately for first-timers, you need to know what to look for.
Brains, not brawn, are required: At least two of the par 5s - most notably the 515-yard 18th - are best played from the tee with fairway woods or irons. There are also a few short par 4s (318, 355, 342 yards) where your big ego should remain in the bag.
Most striking about this course is that 17 out of 18 holes deserve detailed descriptions. They are absolutely stunning, from tee to green. Only the 159-yard 12th - which still requires a tee shot over a pond - is even a smidge less than memorable. The one hole with a generous fairway, No. 14 (590-yard par 5), offers welcome solace from rest of the constantly demanding layout.
"This year was important for the event," added Long. "We have searched for several months for a venue to follow the disappointing Myrtle Beach. We believe we have made a giant leap forward with golf course, hotel, and evening entertainment."
This year's event will be the second visit to the state of Michigan for the Carl Spackler Open. The event was held at the Grande Golf Club in Jackson, MI in 2007.
"Everything except date and fees appear to be going in Spackler favor this year," said Long. "We were pinched on date like never before and fees will be higher. With that said, I have a lot of confidence in our golf course, tournament logistics and broader entertainment. There is a going to be a list of guys kicking themselves after missing this one."
Although the actual tournament will be held in South Lyon, all lodging and non-tournament activities will take place in or around Brighton, MI.
Registration for the 2019 Carl Spackler Open will be open on November 20 with the deadline for registration on February 28. Although the cost for the tournament is still unknown, the non-refundable deposit of $120 per participant will rise to $150 and must be postmarked by February 28.