Beverage Prices Set
December 4, 2018
SOUTH LYON, MI — On behalf the Captains Club, Jason Dilks and Dave Osborne continued to release details surrounding the 19th Major Championship scheduled for July in Michigan. Osborne gladly took the responsibility of releasing financials surrounding alcohol and general beverage at Moose Ridge.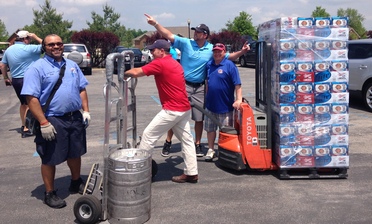 "Golf course beer will be once again cheapest in event history," said Oz with a big smile. "The price per beer will be $2.00 and the same as 14 of the past 16 years." Moose Ridge will provide thousands of beverages using beverage carts and clubhouse throughout the week. ?Gatorades and sodas have also been set at $2.00.?
"My two cases of beer remains under $100," said a delighted Jason Dilks. "The beer was $2.00 back in 2005, which was more than a decade ago."
Moose Ridge will also provide lots of non-alcoholic beverages. "The cost of beer could increase sharply away from the golf course," says Dave Osborne.. "The details are still unknown, but could be as much as 100 percent higher in Brighton."
The event fee will provide complimentary beverages for breakfast each morning at breakfast.
The 2019 Carl Spackler Open registration period is still open until February 28. The new roommate selection period will begin in early March. Then participant option process in April and financial collections in May. There are 80 golfers expected for the 96-hour golf party.