Roommate Selection
March 12, 2019
WARREN, PA — The #1 amateur golf tournament, Carl Spackler Open, announced today the registration period is over and will move into lodging preparations.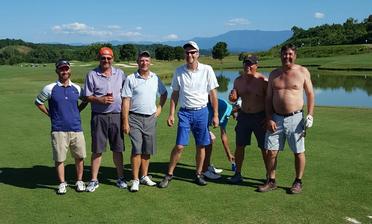 The new next step changes a traditional process and will involve streamlining rooms and roommates. The following requires ACTION and will begin immediately. Everyone is required to select their rooming preferences before March 22. Hotel reservations will be modified before April with a rooming list to be completed in late-June.
ROOM STRUCTURE: The Carl Spackler Open is setup annually in the fall based on double occupancy and a tournament field divisible by 4. Organizing the event requires estimations made nearly a year advance. The event is not setup for local golfers wanting to sleep at their house, wives on vacation, golfers looking for partial participation, or to pay for hotel rooms through corporate points. (An example of complexity: A person using corporate points to get a free room can indirectly place another golfer into single occupancy costing $250. So the free room is not necessarily free.) Hotels are selected using multiple factors, but the primary factor is lowering cost with volume and using double occupancy rooms. The event did not historically reserve single occupancy rooms, but will begin to reserve single occupancy rooms by guessing starting in 2020 and beyond.
ROOMING ASSIGNMENTS: The process in the previous page generates 500+ roommate preferences, which enables the entire roommate assignment process to be successful.
ROOMMATE PROTECTION: The Carl Spackler Open could have golfers who do not generate a roommate preference. An example could be someone who "snores loud and obnoxiously". Participants without a roommate preference will be presented with two options before April. (1) a full refund or (2) the first single occupancy room if available. This process is straight-forward and comes without an awkward discussion.
REQUIREMENT NOT MET: Returning participants who do not provide 5 roommate preferences will be offered a (1) full refund or (2) single occupancy room if available. Please rank your preferences. We ask you trust the process, which returns 70 to 90 golfers annually.
SINGLE OCCUPANCY: We are accepting requests for single occupancy rooms in March, but understand (1) it's not a priority and (2) it's not free. Selecting a single occupancy room can indirectly force a fellow participant into a single occupancy room. The cost is expected to be at least $250, but will be structured in a way that the event does not lose money. Single occupancy preferences are not reservations. Hotel reservations will be modified later and single occupancy requests will be managed when demand, cost, and availability are known.
The 2019 Carl Spackler Open will be held in Brighton, Michigan. There are 88 to 92 golfers expected to descend on Moose Ridge Golf Club on July 10 for a 54-hole golf tournament.