Awards Set
May 25, 2019
KALAMAZOO, MI — The Captains Club today announced that the awards banquet for the 19th Annual Carl Spackler Open will take place on Saturday, July 13, 2019 at Angels Crossing Golf Club.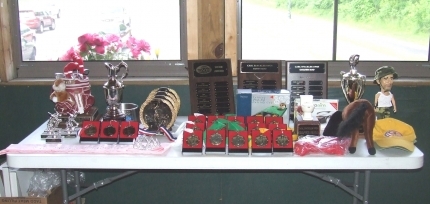 "The decision on the Awards Presentation was made during the process of securing the venue," says Matt Pritchard, Senior Vice President of Awards. "The decision includes dinner, but will not start for hours after Round 3 play. Golfers will have time to return to the hotel and return to the golf course for dinner.?
The Presentation will be used to announce winners and losers. The Spackler Jacket and Championship Trophy is the gravy. Chris Price, the present champion, will assist the new champion with their fitted Spackler Jacket.
The Horses Ass Trophy, jackass behavior of the weekend, will be distributed to a golfer. The Carl Spackler Outfit will be worn by the loser. The Noonan Award will be distributed to the rookie scoring the most points. The Skills Challenge Contest will also have another short game master. The Dooty and Stroke Awards will also be awarded to the worst and best putter based on long-putt points.
The golfer in last pace on Friday evening with dawn the Al Czverik Outfit during Round 3 play. "This outfit is a reminder to the golfer in last place that the Carl Spackler Outfit is 18 holes away." History shows that the Czverik Outfit does get last place out of last place quickly.
"My personal favorite is the new Fanatic Award," says Pritchard. "It is great to see somebody without so much dedication to the event get recognized."
The 2019 Carl Spackler Open will be held at Angels Crossing Golf Club in southwest Michigan in Vicksburg. There are between 90 golfers expected to participate in the 19th annual event. There is a practice round scheduled for Wednesday afternoon.