Straighter Than Ever
May 27, 2021
FARMINGTON, NM — The 2021 Carl Spackler Open is set to kickoff in less than 2 weeks in northern New Mexico. The desert location, Farmington, is not only dry, but high in elevation and ensures balls will fly straighter than ever. Players like Kyle Bender, Rick Dosky, Greg Garrett, and many others are super excited about their new found fortune.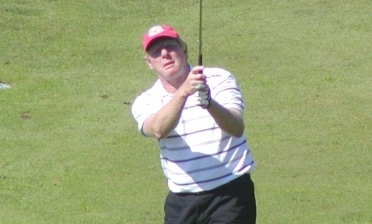 "The city of Farmington sits 5,400 feet or a mile high," says Captains Club member Greg Garrett. "Everyone can remove 15 percent from their draw, slice, hook, or fade. Kyle Bender's shots will bend less, but nobody should be more fortunate than me."
Altitude and wind have the greatest and most apparent effect on golf ball distance. Less dense air at higher altitudes imparts less force on the golf ball, which ensures the ball cannot slice or hook as much.
"Hooking and slicing are reduced in severity due to altitude's effect on the golf ball," added Greg Garrett. "A hook or slice is generated when the ball's spin axis is tilted and the lifting force pulls a little to the left or right instead of straight up. The lifting force in Farmington is less due to lower air density making the curvature less. The air density is about 15% lower than at Myrtle Beach forcing a hook or slice to curve 15% less. It's easier to hit the ball straight, but it's harder to intentionally curve it."
"Who needs to curve a ball in a desert with no trees," asked Marty Zabonik? "Mike Lewis hitting a ball straighter in any element sounds like a bunch of hog wash."
Less dense air imparts less force on the ball, creating lower force. Golfers will see a flatter trajectory on your longer shots, a more shallow angle of descent, and greater roll.
"This is my opportunity to showcase my limited golf skills," says Kyle Bender from his patio in Alabama. He asked, "What about heat?"
Garrett replied, "A typical driver flies 1.5 yards further for every 10 degrees of increase in temperature. This is why the ball doesn't seem to fly as far in colder winter golf weather. Farmington is not expected to be hotter than year's past, which is not expected to be a factor."
The 2021 Carl Spackler Open is set with 70 golfers from 14 different states. The lodging assignments were published online in early May. All players are scheduled to be in Farmington on Wednesday, June 9 for the Thursday morning practice round.