Awards Presentation Planned
June 1, 2021
FARMINGTON, NM — The Captains Club today announced that the 20th Carl Spackler Open Awards Presentation will take place on Sunday, June 13 outside the clubhouse at Pinon Hills Golf Course in Farmington, New Mexico.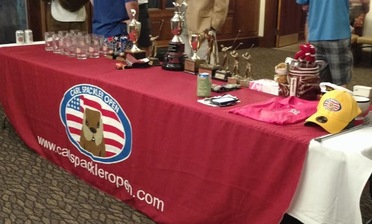 A decision away from the hotel was made during the process of securing the venue. The golf course has the best option for 70 golfers. The decision includes an Awards Dinner after the Skills Challenge Contest.
"We should mostly be outside on Sunday evening," says Vice President of Awards Matt Pritchard. "Looking forward to seeing our gopher and Ken slipping on the new jacket for the winner."
The Presentation will be used to announce winners and losers. The Golden Jacket and Championship Trophy is the gravy. Ken Sumner, the present champion, will assist the new champion with their fitted Golden Jacket.
The event will also compete for longest putt, longest drive, and closest to the pin on a daily basis.
The Horses Ass Trophy, jackass behavior of the weekend, could be distributed to a golfer. The Carl Spackler Outfit will be worn by the loser. The Noonan Award will be distributed to the rookie scoring the most points. The Skills Challenge Contest will also have another short game master. The Dooty and Stroke Awards will also be awarded to the worst and best putter based on long-putt points.
The 2021 Carl Spackler Open will kickoff in 9 days with 70 golfers. There is a Welcome Player Meeting scheduled for Wednesday night and practice round scheduled for Thursday morning. It has not rained in Farmington in over 100 days.