Player Meeting Scheduled
June 5, 2021
FARMINGTON, NM — The Captains Club formally announced today a welcome player's meeting must return in 2021. The meeting will be held on Wednesday at Buffalo Wild Wings. The meeting will be held on the patio starting at 9:00pm.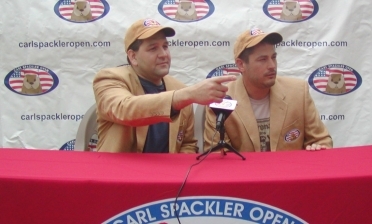 "We have both an exciting and informative meeting planned," said Chairman of the Captains Club Greg Long. "Come early and grab a beer. The bar is very nice and quick walk from the hotel."
The meeting itinerary will include golf course beverages, liquor, golf related contests, golf bag handling, distribution of gifts, player introductions, and more.
"The Captains Club anonymously demanded the Welcome Player Meeting in 2021," says CFO Rick Dosky. "The importance of getting organized has enormous value. It is our opportunity to also welcome everyone to our event."
Food procedures for both breakfast and at the golf course will also be provided. "We have new senior tees this year," said Rick Dosky. "Bill Bateson is in charge of yardage and will discuss the tees."
Senior member Matt Mogel asked, "Will this meeting cover the rain procedures?" Dosky replied, "No. We have shelved rain as a topic for 2021."
The 2021 Carl Spackler Open will be held at Pinon Hills in Farmington, New Mexico. There are 70 golfers expected for the 96-hour golf party. Participants from 14 different states are expected to tee off on Thursday morning.