Limited Availability at Belmont Lake
August 25, 2021
ROCKY MOUNT, NC — The Captains Club continues its search for the host course for the 2022 Carl Spackler Open. The North Carolina property, Belmont Lake Golf Club, was contacted and immediately ruled out for consideration.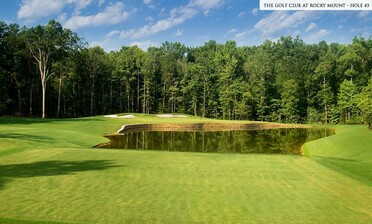 "Rocky Mount and Belmont Lake are too busy for our 320 rounds," said Chairman of the Captains Club Greg Long. "I keep repeating myself, but add it to a growing list of busy places without room for our event. Golf peaked during the pandemic and locating a really nice golf course with availability over 4 days is nearly impossible."
Belmont Lake Golf Club is a spectacular 18 hole, David Johnson Golf Design championship North Carolina golf course that underwent a complete renovation in 2014. Emphasizing strategic play that puts escalating demand on a player as you move from the front to back tees, Belmont Lake Golf Club offers a balance of doglegs both left and right, straight holes, large and small greens, and a wonderful variety of hole lengths. The 18th fairway runs along the spectacular 80-acre Belmont Lake, and two man-made ponds that heighten the holes challenge.
"I have watched this one grow as a baby into a premier golf course," says Jeremy Myers of his hometown golf course. "The idea of having Spackler in my hometown turns my stomach, but it is a good golf course with value."
The 2022 Carl Spackler Open does not have a date nor a location. The date is based on golf course selection. The practice round will likely be held on May 11, June 8, June 22, or July 13. The Captains Club continues to look for proposals. The Captains Club continues to look for proposals, but has officially eliminated Iron Valley (in Pennsylvania), Riverfront (in Virginia), Greystone (in New York), and Belmont Lake (in North Carolina).