WeaverRidge Opens 2022 Proposals
September 10, 2021
PEORIA, IL — The Captains Club announced today that WeaverRidge Golf Course in Peoria, Illinois has been added to the proposal list for the 2022 Carl Spackler Open. The beautiful golf course has all the elements for a fantastic venue.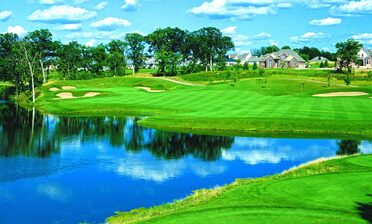 WeaverRidge is perhaps Illinois' most spectacular Championship Golf Course set within rolling hills and forested valleys, surrounded by the beautiful homes of WeaverRidge Estates. Masterfully created by Hurdzan-Fry to balance nature with design, WeaverRidge features multiple bent grass tees and fairways, fast and true greens, challenging and dramatic elevations, and excellent practice facilities.
"The greens are rumored to roll as fast as Pinon Hills through a beautiful layout," says Chairman of the Captains Club Greg Long. "Part of the Captains Club is familiar with the golf course, but would need to revisit the venue and evaluate other options before selecting it. It is a solid option that would take our 21-year old event to its 14th state."
The lodging option with bnaquet rooms rests a mile from a waterfront casino. There is an affordable airport with lots of food and drink options in the city. The golf course calendar is wide open for Captains Club selection and beer prices fitting our model.
Peoria, Illinois is located between St. Louis, Missouri and Chicago, Illinois. Both cities are 2 hours and 30 minutes from Peoria. The local airport has multiple popular airlines.
WeaverRidge opens the proposal list for 2022. The registration process will open after date, price, and golf course are selected. Golf courses in North Carolina, Pennsylvania, Indiana, Virginia, and New York have already been eliminated.