Ghosted by Sultans Run
September 3, 2021
JASPER, IN — The Captains Club continues its search for the host course for the 2022 Carl Spackler Open. Sultans Run Golf Club was contacted multiple times, but ghosted our event for reasons that are not known.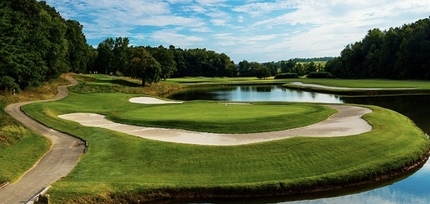 "Sultans Run seemed interested in July," said Chairman of the Captains Club Greg Long. "We had one good conversation, but then we're ghosted."
Sultan's Run is a Championship Course as part of French Lick Resort. It is designed by Pete Dye disciple Tim Liddy and offers a tremendous parkland layout with rolling hills, wonderful bunkering and a waterfall behind the 18th green, making it one of Indiana's most scenic layouts.
"Sultans Run is a fantastic option," said Long. "Hopefully someday we can host our event there. The pandemic has nearly eliminated Saturday and Sunday golf outings nationwide with surging memberships."
ultan's Run Golf Club stretches over 224 rolling acres of woods, water, and wildlife. The zoysia tee, fairways, and green surrounds offer a world-class playing surface. The roughs are a bermuda and fescue blend, while the green surfaces are of bentgrass. All 18 holes at Sultan's Run Golf Course have been beautified in some shape or form from entirely new bunkering and reconstructed greens, to complete rework of several holes. The end result is that Sultan's Run has become a world-class golf facility.
The 2022 Carl Spackler Open does not have a date nor a location. The date is based on golf course selection. The practice round will likely be held on May 11, June 8, June 22, or July 13. The Captains Club continues to look for proposals. Golf courses in New Hampshire, Virginia, Indiana, Pennsylvania, and North Carolina have been eliminated.