Ghosted by Coyote Crossing
October 5, 2021
WEST LAFAYETTE, IN — The Captains Club continues its search for the host course for the 2022 Carl Spackler Open. Coyote Crossing Golf Club was contacted and responded, but then ghosted our event for reasons that are not known.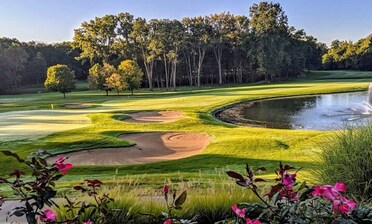 "Coyote Crossing seemed interested in early August," said Chairman of the Captains Club Greg Long. "We had one really good conversation, but then we're ghosted. It's the second course in Indiana that ghosted me."
Hale Irwin began constructing Coyote Crossing in early 1998 and the course opened on June 7, 2000. Hale, himself, was fully involved from the design process through completion of construction of Coyote Crossing Golf Course. Irwin believes a course must incorporate two critical design elements: the existing environment and land planning objectives. Coyote Crossing's features epitomize Irwin's design philosophy.
The course was designed to incorporate all the natural terrain of this Northwest Indiana site. Located on 175 acres within easy access from Interstate 65 and Purdue University, the course is enhanced with ponds and Burnett's Creek, which meanders through the property. The scenic beauty of the area becomes an integral part of the Hale Irwin Design course.
As a semi-private golf course, Coyote Crossing has five sets of tees on every hole. The course offers a challenge for players of all caliber. Irwin describes the terrain as "near perfect, with views of open meadows to mature wooded areas". Yardage of the par 72 layout is 6839 yards from the exhibition markers.
The 2022 Carl Spackler Open does not have a date nor a location. The date is based on golf course selection. The practice round will likely be held on May 11, June 8, June 22, or July 13. The Captains Club continues to look for proposals with one in Peoria, Illinois. Golf courses in New Hampshire, Ohio, Tennessee, West Virginia, Virginia, Indiana, Pennsylvania, and North Carolina have been eliminated.