Metamora Fields Proposed
October 10, 2021
PEORIA, IL — The Captains Club announced today that Metamora Golf Course in Peoria, Illinois has been added to the proposal list for the 2022 Carl Spackler Open. The beautiful links golf course has all the elements for another great venue.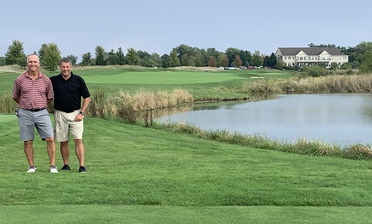 Metamora Fields Golf Course will provide a fine blend of holes inviting all levels of play and handicaps to enjoy. Weibring-Wolfard Golf Design designed a central theme of straight forward shot values, old fashion traditional play-ability, opportunities for players to bounce the ball into and around every green with variety and options to play the game.
"This type of golf course would be another year of treeless play," says Chairman of the Captains Club Greg Long. "The greens roll as fast and true as Pinon Hills. The conditions are some of the best we have ever played. It is a solid option that would take our 21-year old event to its 14th state."
The lodging option with banquet rooms rests a mile from a waterfront casino. There is an affordable airport with lots of food and drink options in the city. The golf course calendar is wide open for Captains Club selection and beer prices fitting our model.
"Large bent grass fairways and greens," says Long. "Bunkered very strategically makes for proper placement off of the tee and approaching. Greens roll very true."
Peoria, Illinois is located between St. Louis, Missouri and Chicago, Illinois. Both cities are 2 hours and 30 minutes from Peoria. The local airport has multiple popular airlines.
WeaverRidge and Metamora Fields proposals are options for the 2022. The registration process will open after date, price, and golf course are selected. Golf courses in North Carolina, West Virginia, Tennessee, New Hampshire, Ohio, Pennsylvania, Indiana, Virginia, and New York have already been eliminated.