Whispering Woods Added
October 19, 2021
ERIE, PA — The Captains Club continues its search for the host course for the 2022 Carl Spackler Open. The tight and difficult Whispering Woods Golf Club was contacted regarding availability and pricing. It was added as an option for 2022.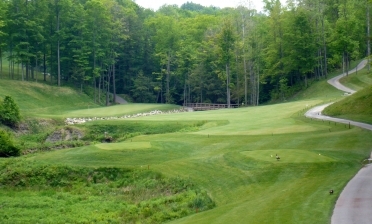 "Whispering Woods is another golf course that would fit right into the Carl Spackler Open portfolio," said Chairman of the Captains Club Greg Long. "The golf course is fantastic and conditions are super. The proposed location would place the event just outside Warren, PA. The Erie option has everything we want in a proposal except a clubhouse and some club members who like to golf, but certainly an option for 2022."
Whispering Woods was designed by John Exley. It shares some of the same characteristics as Peek n Peak Resort that include large elevation changes, gullies, short drivable par fours with significant risk, and ample use of areas that exact an incredible penalty. It's tough to characterize this style of golf course design: it's not early American, it's not parkland, it's not "linky," and it's not manufactured/cookie-cutter. A fair amount of dirt was moved in creating Whispering Woods, but given the significant changes in elevation, the course still feels more set upon the land rather than shaped or bulldozed into being.
Whispering Woods presents a tale of two nines, woven together with a common thread. The first nine holes wanders through the housing development, and though the houses never come into play, they're visible from the fairways, tees, and greens. The closest the houses get to the course are the right side of the seventh hole and near the tee on the eighth. The back nine, in contrast, is completely secluded. An older house beyond the trees behind 11th tee is the only house you'll spot on the back nine, and unlike the front, you can peer through trees separating the holes to see other golfers.
The 20-year old event originated by Warren, Pennsylvania natives. The event has been played three times in Barnesville, PA, but has not yet surfaced local to Warren. "Warren is something that we have explored more than once," said Long. "Event success for everyone involved seems to be an hour from ground zero. Erie addresses important logistics pretty well."
The 2022 Carl Spackler Open does not have a date nor a location. The date is based on golf course selection. The practice round will likely be held on May 11, June 8, June 22, or July 13. The Captains Club will be holding it first press conference in October to announce the event date.
The Captains Club begins negotiations with proposed locations, but has officially eliminated Boulder Creek (in Ohio), Iron Valley (in Pennsylvania), Riverfront (in Virginia), Greystone (in New York), Greystone (in Tennessee), Bretwood (in New Hampshire), Coyote Crossing (in Indiana), Sultans Run (in Indiana), Glade Springs (in West Virginia), and Belmont Lake (in North Carolina).