Launching New TV Channel
October 23, 2021
CEDAR PARK, TX — The Captains Club announced today the Carl Spackler Open launched a TV Channel to cover event news. The 20-year event held its first press conference on October 25. The presser, which was held at Spackler headquarters in Texas, reportedly lasts just under 10 minutes.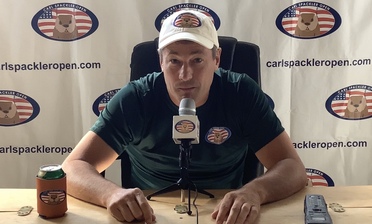 "We held our first press conference this week," said Chairman of the Captains Club Greg Long. " It will be broadcasted on YouTube for approximately 10 minutes and cover a variety of topics. A bunch of our past players have asked for event information to be distributed verbally. I am taking that advice and embarking on new process."
YouTube Link.
https://youtu.be/W2v0zRi82aY
Viewers are reminder to "SUBSCRIBE" and receive notifications of further news. "The frequency of news is based on success," said Long. "Success is dependent on feedback or video likes. This initiative might be fun and enjoyed, but also might not be interesting. Future video communications are dependent on perceived success."
The 2022 Carl Spackler Open is unscheduled, however sources believe this week's press conference will provide a lot of clarity.
The Captains Club begins negotiations with proposed locations in Pennsylvania and Illinois, but has officially eliminated Boulder Creek (in Ohio), Iron Valley (in Pennsylvania), Riverfront (in Virginia), Greystone (in New York), Greystone (in Tennessee), Bretwood (in New Hampshire), Coyote Crossing (in Indiana), Sultans Run (in Indiana), Glade Springs (in West Virginia), and Belmont Lake (in North Carolina).