Loozers Sluggishly Enter Summer Season
June 10, 2009
WHEELING, WV — It's the first weekend in June. The air is warm and the sky's are clear from Maine to the Florida Keys. So where are all the golf scorecards? Surely atheletes as dedicated as Loozers would take full advantage of such ideal golfing and drinking conditions, wouldn't they? Yet only two rounds were logged into the website over the weekend; solid performances by veteran GStan and rising star Whitey.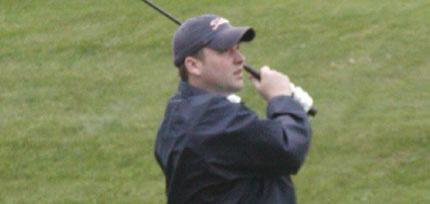 Golfapalooza.com caught up with several normally active Loozers earlier this week to get an explanation. Jeff Quackenbush, perennial Golfapalooza medalist contender, has been spending more time at the computer this season. "I sat down the other day and logged into my Facebook account. Someone had thrown a snowball at me and another person had bought me a drink. I started clicking on stuff and the next thing I knew, it was three hours later and I was taking a test to see if my IQ is higher than Ben Affleck's." Frankenberry also explained that he has spent a lot of time trying to figure out how the Biggest Loozer website got spammed with over 40,000 posts advertising cures for erectile dysfunction.
Founding Father Patch is yet to post a score in 2009. He has been nursing a back injury for far longer than necessary, although with understandably good reasons. "I've discovered that my wife is much nicer to me when I'm acting like I'm hurt; plus my chiropractor is smoking hot and dresses quite provocatively. One or two more doses of KGB and I might get myself a happy ending."
Other notable absences from the summer open include Uncle Mark and Kerchak, who are rumored to be playing frequently and simply not entering scorecards to the website. FF Butter's KPA (Kitchen Pass Allocation) has restricted him from playing any rounds of golf outside of Golfapalooza and the CSO. Monte has been very busy playing with his hose.
Only three and a half months left until the most intoxicating event in the world of sports. Loozers should take advantage of every opportunity to get their games in shape.