Butter Captures 2nd MELC Title
September 29, 2009
TERRA ALTA, WV — There'??s something to be said for experience. We don'??t really know what that is, but what we do know is that the man with more major tournament experience than any other Loozer pulled out of Terra Alta Sunday morning reading his name on the MELC Cup for the second time. Founding Father Brian Butter Flanagan has never been late to Golfapalooza. He has never left early. He has never missed a practice round or the first tee toast. He has never been to a Steel Pipe Manufacturers Convention during the month of September. You have to believe that that translates to success on the course. Butter used his experience to successfully battle the elements and 30 other Loozers who were hungry for the most prestigious trophy in all of amateur golf. (Actually, 29 other hungry Loozers and one guy who didn'??t even stick around long enough to collect his green jacket.)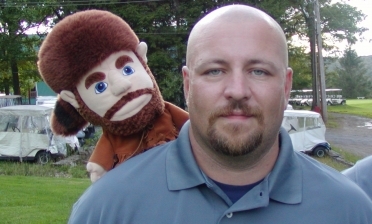 Butter turned in a strong 72-point effort during Thursday'??s opening round, anchored by impressive birdies at the 1st and 11th holes. However, he found himself in 5th place behind the ever-dangerous Bartlett, steady low-handicappers Hurricane and Whitey, and a surprised and bordering-on-annorexic GStan, who was able to fire an Alpine Lake personal best, 83 stroke, 74 point round, even in his weakened condition.
On Friday, falling temperatures cooled off most of the field, yet Butter remained steady with an impressive 73-point performance, which turned out to be the high MELC for the day. Of all the other top 5 Thursday performers, only Bartlett managed better than 60 points on day 2. On Saturday, the tournament was Butter'??s to win or lose. He found himself paired with rookie John '??Happy Gilmore'?Ě Dages and the tandem slammed the door shut on the field early with 3 birdies on the front 9. '??Of course he'??s going to win on a day like today'?Ě said a wet, shivering GStan. '??Look at the 2 of them. Together they'??re probably tipping the scales at somewhere between 500 and 550 pounds. With all that protection, they could have golfed naked and not been bothered by the cold and rain; although that certainly would have caused a whole other set of distractions and problems for the rest of the field.'?Ě Butter and Happy only managed a mere 8 points on the more difficult back 9, but his 186 total MELC for the weekend was more than enough, as he finished 11 points ahead of the triple-header in 2nd place: Bartlett, Whitey and KidRock. Pat The Hurricane Boland finished 12 points back alone in 5th place.
Other tournament notes: JT, Randy Watson, Kerchak, Bro and RealStan rounded out the top 10 MELC finishers. JT used an impressive 2-man scramble performance with Sheiker to vault himself from Green Jacket Winner in 2008 to 6th place in 2009. Whitey repeated as individual medalist, despite some gutsy grinding from RealStan, Hurricane and Quack, who finished 8, 9 and 10 strokes back respectively. Cane lost money on his traditional Friday Par Number 1 bet for the first time in its existence. The bad economy probably kept too many high handicappers from taking a stab at it. Finally, Grundo fired the financial advisor who told him that the 100 feet contest was not a good investment for him.