Golfer Who Shot-gunned 6 Beers Unhappy with Round
July 11, 2018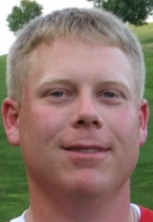 WHEELING, WV — Aaron "Whitey" White looks at the GXXII home page on his computer screen in disgust and humiliation. "Just why?" has asks. "Golfers have feelings too ya know." Whitey can't hide his emotional response to having his round categorized as "dreadful". "I play golf for ME," says Whitey, "not for the accolades, publicity or recognition; but to call my round "dreadful" is just plain mean and uncalled for. Just one more in a long line of examples of the whole of society stooping to the level of discourse and civility of our President, hashtag make Golfapalooza great again!"
Whitey further added that "the rating of my round should definitely have taken into account the fact I shot-gunned a whole bunch of beers after I started playing badly." We would like to note, however, an anonymous source close to Whitey did confirm that he was not playing that badly when he started shot-gunning beers, and that he shot-guns a whole bunch of beers during pretty much every competitive round he plays.
Greg "Slick" Long has historically been a staunch defender of the PostStats.com descriptive grading system for individual round evaluations, most specifically "poor" and "dreadful". "I stand by our characterization of Whitey's round as "dreadful". It's not often you see an 11-handicapper put up five straight double-bogeys, particularly on such easy holes. From the white tees. On a course that he's been playing for more than 20 years." Greg added, "if you ask me, calling it dreadful is being generous. In fairness though, I will admit, because I've seen so many dreadful scorecards on the Golfapalooza activity log over the years, I may be a little numb to the word. Perhaps abominable, shameful, atrocious or tragic would be more appropriate."
According to Long, Poststats is also considering modernizing its activity log to try to appeal more to urban and millennial golfers and speak their language. Slick clarified, "like instead of seeing 'Aaron White posted a dreadful scorecard; 26-over 97', you might instead just see 'the Jones Course bent Whitey over' or something similar."
Only 63 more days for Whitey and the rest of Loozer Nation to practice having thicker skin, practice shot-gunning beer, practice Fireball shooters, or perhaps even practice hitting better golf shots.