KGB Cup Captains Announced. Again.
July 19, 2018
WHEELING, WV — The KGB Cup Captains for GXXII were announced at last year's awards ceremonies, but due to some foreseen circumstances like drunkenness, fatigue and/or zero f***s left to give at the time, a press release was prepared today for a reminder. The 2018 KGB Cup Captains as selected by last year's winning Captain, Kyle "Alf" Alford, are Jeff Blankenburg and Aaron White. For everyone who just read that and said "who the f*** are those people?", Alf picked Quack and Whitey as Captains. A teleconference was setup for a question and answer session with the captains.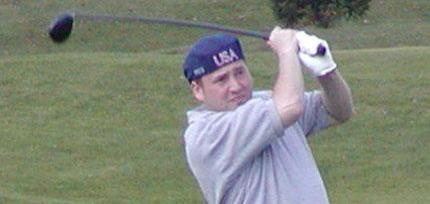 Quack made himself available as he was packing his luggage for his 78th out of town work trip of the year. "Honestly, I didn't even remember being named a captain," he stated, "I'll gladly do it but if Alexa doesn't remind me then I don't remember shit!" The 15-time Golfapalooza participant is known for his technological saavy and his Boy Scout-like preparedness but was caught off guard by today's questions. "Alexa, order a pizza...oh wait, we still doing this interview?" Quack said. "They keep sending me to Seattle! It's gorgeous but it rains like EVERYDAY there! How much golf do you think I've played, Jesus!" As most G participants know, it will be hard to determine which will receive more effort from Quack, his golf game, his team member selections or the newest Alexa skill that will give us on course score updates.
Whitey was contacted just back from his team's last baseball tournament of the year. This will be his 12th trip to the rolling hills of Alpine Lake and he was overflowing with enthusiasm for being a KGB Cup Captain this year. When asked if he was excited about the responsibility of picking his team, replying to emails and placing a Captain's wager, he had this to say, "Yes." Whitey, the target of what he refers to as a "Golfapalooza website hit piece" earlier this month, is familiar on how quickly news and smack talk spreads, especially through the G Facebook page. "I'd like to clear something up right now, I shot a 97 in March after a 6 month layoff and that's what everyone sees! Hell, I shot an 82 last week and no one mentions that dammit!" Whitey stated. On how he plans to select his team, Whitey states, "I'm going to put in a lot of research and try to pick the strongest team possible, hell, I'm in the fat bet and I'm clearly not going to win that! I want to win something!"
The two Captains have not officially contacted each other concerning...well anything at all, but definitely not concerning the KGB Cup, but will in the near future. Rumor has it though, they are both already counting their winnings from the bets Chef had placed for them in Vegas on their Brownies to win 'the big one'! 'The big one', for Browns fans, of course referring to their preseason opener.
Only 55 days remain until GXXII so be alert for the endless loop and replies to emails that are sure to come.