Zero for Bogey
June 26, 2006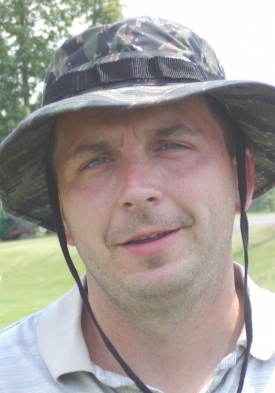 CLAYTON, NC — The 2006 Carl Spackler Outfit was worn proudly by Jay Glover this year, but with one complaint. Glover still stands by his lack of points, "How can someone like me get zero for bogey when Trent Cooper gets a point for bogey?"
The answer was not very clear in early-June and still remains unclear. Although the system is completely based on prior statistics posted by each golfer, the point system continues to explore changes two or three times a year in hopes of generating the perfect system.
"Glover is a 12.8 handicap," says point creator Greg Long. "That has nothing to do with the Point system. He averaged 5.5 pars per round on his last 15 rounds. That is entirely what matters. He carded zero birdies and 9 pars all week including the practice round. Matt Boland was the only golfer in the field with less long-putt points. Glover would have faired better if we played a stroke tournament, however this is an aggressive-style handicapped tournament that rewards low scores on a hole-by-hole basis.
In regards to Trent Cooper. He carded 2 birdies and took home part of the Stroke Award with 18 long putts. That is 54 points before you even consider par or bogey. That is the difference between performance and lack of performance in a major championship."
Glover, i.e. Bootsy, poured in 37 bogeys in tournament play. "That is 37 more points with 1 point for bogey," said Glover while wearing the Outfit. "That would have moved me up 4 spots to 59th place. Two points for bogey would have given me a Top 10 finish."
Long explained his position further. "Glover's play was so poor that even using the four sub-par rounds at the Neuse before he even played the Neuse would still have him in the first group off the tee on Saturday. That is how far off his normal game (last 15 scorecards) he actually played.
Bootsy did have had a very aggressive set of points. If Jay would have played well at the Neuse, the complaints would have been flying in, "This is unfair. Glover gets 4 for par." Fortunately for Bootsy, that did not happen."
Chris Hays was a very lucky man with piss poor play. "He is a hacker at the highest level," said Glover. "Wow!"
Glover joins a list of poor performances over the years. He joins Mike Trojanowski, Tom McCauley, Jon Munksgard, Mike Watkeys and Mike Herron as the 6th Carl Spackler.
Long did admit specific work needs to be done on the point system this summer. "The massage of the statistics to remove aggressive point combinations is something on my list," said Long. "I also did not like Gumby's 38-point effort on Saturday. I need to investigate that low number while carding 3 birdies."