Rumors & Speculation
December 23, 2018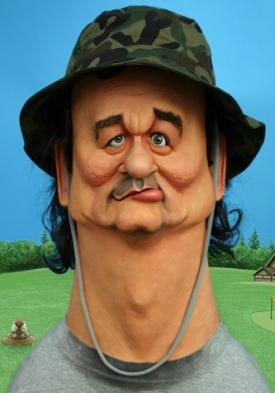 SOUTH LYON, MI — The 2019 Carl Spackler Open has a date, a location, and a fee. Most of the details are complete. Registration opened 45 days ago with all rumor and some action.
"The budget for this event was set at 64 golfers," says Chief Financial Officer Rick Dosky. "The club raised its forecast to expect 80 golfers in Michigan, but who exactly will show up is a truck load of rumor. There is a no maximum this year."
Marty Whalen suggests the tournament field could soar to 100. "There should be 90 to 96 this year," said a confident Whalen who resides in Michigan. "The buzz is high."
There are 27 participants who have signed to participate in the annual golf event. There are plenty of rumors to go around with 44 additional members rumored as 'probable' or better.
Bill Bateson, Dave Nickles, and Mark Vacca are some players rumored to be skipping the 19th event.
"Check is in the mail," wrote Chris Hays from California referring to his intent. "Whalen has told me Moose Ridge is his kind of place. Of course it is. He is playing in his backyard." Bob Jastrzebski has entered the field of players while residing 15 to 20 minutes from the golf course.
"We will not miss a trip to Michigan," says Kyle Marti. "It will be great to return and spend time with the wonderful field of players."
The worst player in tournament history, Mark Wray, is expected to return along with rumors of Jean Dore and possibly Tom McCauley. There are even rumors of Dave Lauerhass, Dan Obendorfer, Marty Zabonik, Bobby Leitz, Joe Bono, Patrick Sammis, and Keith Archer.
"The largest recruitment efforts will be spent on Glenn Hoffert from Virginia and Tom McCauley from Indiana," says Captains Club member Pat Boland. "I think we are close to securing a bunch of players."
"80", says Captains Club member Greg Long referring to his target attendance number. "My conservative estimate was 64 due to price and location. Tis the season for 'I'm in', 'I'm coming' and 'check is in the mail'. I would imagine half of the verbal commitments will be financed."
The 2019 Carl Spackler Open will be held on July 10. The deadline for registration is February 28.