Georgia Considered for 2020
July 31, 2019
GAINESVILLE, GA — The #1 tournament in amateur golf brought aboard one of the best kept secrets in public golf on Tuesday. The Billy Fuller designed course, Legacy, joins the 2020 potential venue list. The wonderful golf facility is located just northeast of downtown Atlanta, GA.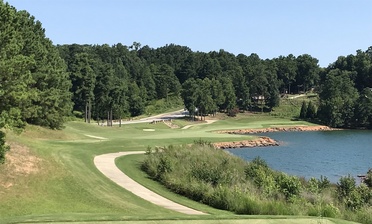 "This place is a future Carl Spackler Open venue just waiting to happen," says Captains Club Chairman Greg Long. "It doesn't scream 'Spackler', but its the most beautiful golf course that I have ever seen."
The Legacy Golf Course is located on Lanier Islands and offers 18 holes of grass on Bermuda tees, fairways, and greens. Lanier Islands Legacy Golf Course provides the perfect setting for a round of golf. The diverse, rolling landscape ranges from dense forest to open meadows to pristine beaches. Water has a strong presence throughout the golf course, coming into play on 12 holes. Many of them play right along the lake's shoreline.
At 6,580 yards, the course is not particularly long but it is still a formidable challenge for long hitters since it requires quite a few demanding carries over the water. One of the most memorable holes for this reason is the par-4 12th, which presents an interesting risk-reward opportunity if you dare to cut the corner.
"Where do you start with this kind of setup," says a very satisfied Long after his round in July 2019. "There are 14 or 15 signature-style holes out there. The facility is manicured wonderfully and far from boredom."
The setup includes hotels and entertainment from Woodbridge, GA.
"The starting hole at Legacy rivals the greatness of the 2008 Rock Hollow venue," says Chairman of the Captains Club Greg Long. "The course delivers pleasure early and often. It is not Poplar Grove in Amherst, VA, however it is the most beautiful golf course that I have ever played."
The first 5 holes are located lakeside. The remaining holes on the front nine dip 50 to 75 yards off the tee making the entire front nine magnificent. The back nine is more of the same until the layout slows down at Hole 16.
The clubhouse offers free breakfast, lunch, and non-alcoholic drinks throughout the day.
"The finishing hole is the worst hole on the property," says brother Brian Long. "The back side of the green is built on a hill and well suited for daily gatherings."
A Georgia selection would be held starting Wednesday, May 13 and finishing up on Saturday, May 16, 2020. The golf course is located approximately 60 minutes from Atlanta's Hartsfield International Airport.
The duo not only played the golf course, but completed a full scout of lodging and entertainment in the area. "There is a beach bar and other hangouts available," says Long. "Legacy is strong option, but our search is very broad."
The Legacy Golf Course has been added to the 2020 venue list. A decision on venue will be announced prior to Halloween.