Utah Considered for 20th
August 21, 2019
HURRICANE, UT — Sky Mountain Golf Course in southern Utah has been added to the 2020 venue list per the Captains Club. The 18-hole mountain golf course offers golfers one of the most stunning desert locations anywhere in the Southwest.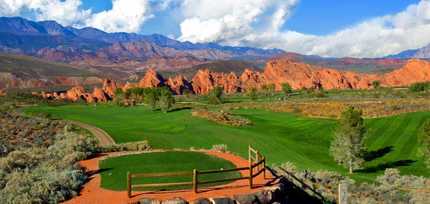 "We cannot describe the towering red and white sandstone cliffs serving as the backdrop for a Carl Spackler Open," said Chairman of the Captains Club Greg Long. "It's always funny how these things come about. This one started from a conversation that I had with the bus driver at nearby Zion National Park."
Tipping out under 6400 yards, this par 72 layout features a scenic front nine free of distractions and a back nine that plays its way around the perimeter of a housing development. The course averages less than two bunkers per hole and features two water hazards that come into play on four holes.
Golfers would enjoy views of the stunning white and red cliffs of Zion National Park in the distance, Pine Valley Mountain to the west and the nearby Red Cliffs State Park as backdrops to the golf. The final holes play along a lava rock plateau, and offers jaw-dropping views of deep canyons and gorgeous desert landscapes.
"To say the location is pretty, or beautiful does not do it justice," says Long remembering his visit in 2018. "I think it's one of the most beautiful settings in America." The incredible panoramic view from the many elevated tees makes focusing on the shot at hand challenging. This is especially true on the 1st, 5th, 17th, and 18th holes as you marvel at the striking beauty of the red sand and lava-filled desert surrounds.
Hurricane, Utah is located 2 hours and 30 minutes northeast of Las Vegas, Nevada. It provides multiple hotels including Best Western, La Quinta, and Wingate. A Utah selection would be held Thursday, May 14 through Sunday, May 17, 2020 to allow for cheaper airline tickets.
The Captains Club continues to create a list of possible venues for 2020 major championship. An announcement on 20th venue is scheduled to be released in late-October 2019. The event has proposed Georgia, New Mexico, and Utah to host its 96-hour golf party.