New Mexico Scouted for 2020
August 9, 2019
FARMINGTON, NM — The Carl Spackler Open is approaching its 20th birthday and exploring the United States for a place to host its event. The Captains Club scouted Utah in 2018, Georgia in July and will scout Florida in September. An August proposal has added New Mexico to the mix with Pinon Hills Golf Club.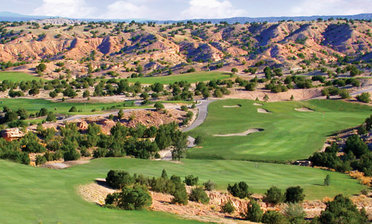 The widely ignored Pinon Hills in Farmington is often ranked among Bethpage Black, Chambers Bay, Harding Park, TPC at Scottsdale, and Torrey Pines as one of Top 10 best municipal golf courses in America.
Pinon Hills was designed by Ken Dye in 1988 and is owned and operated by the City of Farmington. Dye carved Pinon Hills out of some arid and rugged northern New Mexico terrain and did an excellent job of leveraging the natural terrain (arroyos, sand and desert fauna, plateaus, and rolling hills) to create a fantastic golf course that is demanding but fair, scenic, and a superb layout. 
(Arroyos - a steep-sided gully formed by the action of fast-flowing water in an arid or semi-arid region, found chiefly in the southwestern US.)
"We are in search of the best value in America," says Greg Long, Chairman of the Captains Club. "We are turning the United States upside down and shaking it in hopes all great value courses will not only present themselves, but have availability for our event."
A New Mexico selection would be held starting Thursday, June 11 and finishing up on Sunday, June 14, 2020. The temporary shift in days of week will lower airline tickets.
Pinon Hills Golf Course is a true desert course with big undulating fairways, berms, huge bunkers, and very challenging green complexes. The northern desert brings near zero humidity, near guaranteed sunshine, and wonderful temperatures from April to June.
The town of Farmington, New Mexico offers fantastic hotels, a casino, and plenty of off-the-course entertainment. The hotels are located downtown with free shuttles to the casino.
The 2020 Carl Spackler Open is being proposed all over the United States including Georgia and New Mexico. A final decision on location will be determined by overall value, comfort, availability, and fun factor. The decision will be made before Halloween.