Florida Assessed for 2020
September 11, 2019
DUNNELLON, FL — In the heart of Florida is one of America's most spectacular golf courses. Juliette Falls in Dunnellon is a stunning 18-hole championship golf course featuring incredible sand bunkering and overall conditions.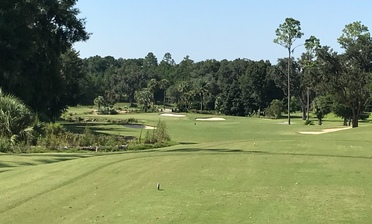 Florida and Juliette Falls was added to the 2020 Carl Spackler Open venue list for the very first time. The hidden gem is located just 18 miles west of Ocala and 2 hours north of Orlando and Tampa airports.
"Juliette Falls is an incredible golf course," says Greg Long, Chairman of the Captains Club. "The bunkering is some of the best that i have ever seen. We are considering Juliette for our 20th event. The Florida option would be held April 30-May 3, 2020."
Situated in the beautiful Ocala countryside, Julliette Falls is a spectacular golf community featuring a variety of upscale homes. Visitors are treated to wonderful vistas that include lush tropical foliage and beautiful landscaping, including a man-made 9 foot cascading waterfall that highlights the green complex of one of the course's signature par threes. This property has earned the Audubon Silverl Sanctuary status, and features a 136-acre nature preserve that is home to abundant native wildlife.
"Mature pines, flowering magnolias, live oaks and seasonal annual flowers adorn the property, creating a lush and serene golf environment," says Greg Long, Chairman of the Captains Club. "The 7300 yard John Sanford designed golf course is sculpted into the rolling terrain, with manicured conditioning from tee to green, and with five sets of tee boxes that afford golfers of all skill levels to choose a set that fits their game. There also is a 10-acre practice facility with a double ended range featuring 11 target greens, putting greens and complete short game areas with sand bunkers."
The clubhouse seats golfers both inside and outside in a large screened in patio. The practice facility and general facility is perfect for the Carl Spackler Open.
Juliette Falls is located 25 minutes west of Ocala. "We are very pleased with Ocala and Juliette," says Greg Long, Chairman of the Captains Club. "There are some logistical items to complete, but 95 percent of venue scouting and preparations are complete.
The Florida option would be held Thursday, Friday, Saturday, and Sunday with flights on Wednesday and Monday. The April 30-May 3 dates would bring comfortable temperatures.
The Captains Club continues to create a list of possible venues for the 2020 Major Championship. An announcement on 2020 venue is scheduled to be released on October 1, 2020. Florida joins Utah, New Mexico, and Georgia as potential sites.