Mark it Down: June 10-15, 2020
September 19, 2019
WARREN, PA — The best amateur players in the world have waited long enough. With a swagger to his step, Captains Club member Kevin Long announced the date of the 2020 Carl Spackler Open.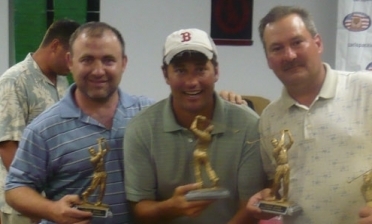 "On behalf of the Captains Club, I am pleased to announce that the expanded 20th annual Carl Spackler Open will take place in its traditional place over the 2nd weekend of June 2020. This is June 10-15, nine days after Memorial Day and six days prior to Father's Day. The once-in-a-decade event has been expanded to a 6-day commitment shifted forward by one day in the week."
Mark Wray continued to read the press document. "The event has temporarily moved its day of week in 2020," said the worst player In tournament history. "The practice round will be held on Thursday, June 11, 2020 and final round played on Sunday, June 14, 2020. Air travel is slated for Wednesday and Monday to save the guys as much as $5,000. This is considered a 6-day 'once-in-a-decade' commitment."
A date sounds simple and without thought," said Long. "Its instead something that fits into busy lives and busy golf courses. This date selection bounced around throughout the scouting process, but ultimately will remain in its tradition spot on the calendar."
The Captains Club has scouted the continental United States over 3 years and visited 6 proposed venues in Georgia, Utah, New Mexico, and Florida. The choice of venue and its location has been negotiated and reserved, however the Captains Club is preparing itself for official announcement and registration. An announcement regarding location, budget, and details is expected before October.
The only conflicts known with the date continue to be a few family birthdays and possibly high school graduations.
"The date selected is perfect," says Jeff Tatum. "It avoids rusty swings, football season, weddings, mid-summer vacations, wedding anniversaries, and April showers. Its in the heart of the golf season."
The Carl Spackler Open is a national 96-hour celebration of golf. The event turns 20 years old in 2020 and has been played in 12 different states with 257 golfers from 21 different states.