Pinon Hills to Host 20th Spackler
September 23, 2019
FARMINGTON, NM — The Captains Club has selected Pinon Hills Golf Course in Farmington, New Mexico to host the 2020 Carl Spackler Open. It will be the second national championship conducted west of the Mississippi River and first in the desert. The other at South Padre Island (April 2010) in Laguna Vista, TX.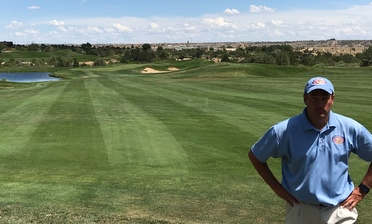 "Today, with much excitement, we have selected Pinon Hills Golf Course to host the 20th Carl Spackler Open," said Greg Long, Chairman of the Captains Club. "We have found a very memorable place to celebrate our second decade as an event. We are super excited with the opportunity and confident with exceeding expectations. The choice was made after New Mexico surprised to the upside at the highest level."
The $80,000 decision of venue came after a 3-year search of the United States that included Minnesota, Nebraska, Colorado, Utah, California, Mexico, Arizona, Nevada, Florida, Louisiana, Mississippi, Georgia, Vermont, New Hampshire, and Alabama. Availability, quality, and being memorable were the requirements. The Captains Club visited 7 solid offers in Georgia, Utah, New Mexico, and Florida.
"We have opened registration today," said Greg Long referring to the event website. "The entire event has been structured, reserved, and planned. We caution all of our players to review all the details inside the registration process before making any decisions."
Pinon Hills was designed by Ken Dye in 1988 and is owned and operated by the City of Farmington. Dye carved Pinon Hills out of some arid and rugged Northern New Mexico terrain and did an excellent job of leveraging the natural terrain (sand formations, desert fauna, slot canyon, rock, plateaus, rolling hills, and more) to create a fantastic golf course that is demanding but fair, scenic, and a superb layout.
Pinon Hills Golf Course is a true links style desert course with big undulating fairways and greens, views for miles and miles, and lots of signature Ken Dye berms, huge bunkers, and very challenging green complexes.
"Farmington hits on all cylinders in regards to providing everything the Carl Spackler Open requires and desires," said Long. "The registration process has a full layout of why, when, and how much. It is important that everyone understand our 'once-in-a-decade' offering, which is why we will keep general announcements very limited."
The 257 past members of the Carl Spackler Open are asked to complete the registration process regardless of their decision to participate. The registration process will supply information needed, but also allow the website to provide verbal commitments. The registration deadline will be February 28, 2020.