Too Expensive; Greystone in TN a No Go
September 16, 2021
DICKSON, TN — The Captains Club continues its search for the host course for the 2022 Carl Spackler Open. The highly regarded Greystone Golf Club was ruled out for consideration after receiving a proposal.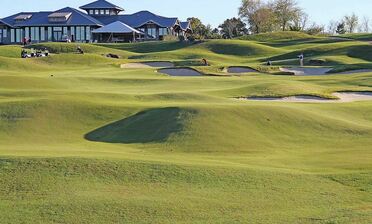 "Dickson as a host location is not ideal, but the golf course is super and some things can be worked around," said Chairman of the Captains Club Greg Long. "The preferred July date chosen by the golf course and higher pricing is much too sacrifice for 2022."
Greystone Golf Club is located west of Nashville, Tennessee. GreyStone Golf Club has hosted more major state and professional qualifying tournaments than any other Tennessee golf course. GreyStone features scenic rock formations, elevated tee shots, and challenging holes, all in a terrific layout that would have golfers reaching for every club in the bag.
"There is a good future option in Dickson," says Pat Boland. "We are not entirely disappointed because it's still September and we can take this event anywhere. We can always try again with Greystone down the road."
The 2022 Carl Spackler Open does not have a date nor a location. The date is based on golf course selection. The practice round will likely be held on May 11, June 8, June 22, or July 13. The Captains Club continues to look for proposals with WeaverRidge in Illinois as a solid proposal.