May 31, 2018
A Quest for Gold
MYRTLE BEACH, SC — Basic in design and gold in color, the Golden Jacket still has a cachet all its own. Though better suited for a cocktail party than the fashion runways, few sport coats are more coveted than the Golden Jacket. Only registered players of the Carl Spackler Open have a chance to wear it.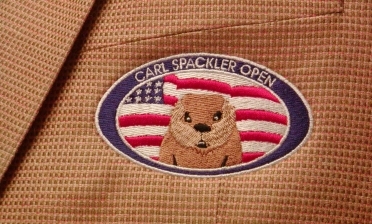 As the 18th Carl Spackler Open golf tournament tees off in June, we take a look at "the jolly Golden Jacket" and the mystique surrounding it. "It's a really big deal because of the tradition and prestige associated with owning one," says 2011 Mountain Valley Champion Jay Dilks. "It's the symbolism surrounding it that makes it so special," says Dilks, who golfs at least once a month, weather permitting.
"From a fashion standpoint, I think some would reach for it based solely on style," he says. "The gold might be difficult to match a tie to it, but would transform many guys into 'eye candy'."
Member Mark Wray says while there's some debate about which tournament is considered toughest to win, there's no disputing which jacket most golfers would love to own. "Everybody wants the gold one," says Wray from his home in Galloway, OH. "But if I had one, I wouldn't wear it just any place. People who aren't in golf circles wouldn't know what it meant. They'd just think I was some crazy guy in a flashy gold jacket."
What's flashy to some, however, is a mark of flair to others. That two-button, single-breasted, center vent jacket has received kudos from the most unlikely source.
The first Golden Jacket was awarded to Carl Spackler Champion in 2001. Greg Long put that one on at tournament's end after Matt Davis decided to consume a shot of liquor on every hole during the final 9 holes. Mike Trojanowski jumped from Carl Spackler Outfit receipent in 2001 to Golden Jacket winner in 2002. Tom Fowble followed in 2003 when he tamed Thunder Hill with a ridiciously high handicap.
Steve Hoden finished the back nine of Tanglewood Park with 3 birdies and his jacket in 2004. The CFO Rick Dosky roared out of the gate to stamp his name into history at Mountain Valley in 2005. Shawn Long shocked the world in Raleigh with 4 bogeys, 3 pars and 1 birdie to score 67 points in the final round.
Brian Flanagan ran away with the Michigan tournament in 2007 to receive his prestigous jacket. Harold Anderson birdied four holes during Round 1 play to join Trojanowski in 2008 as New Yorkers who have captured a Golden Jacket.
Chad Long won his jacket at Poplar Grove in 2009 and Jeremy Myers stunned everyone by winning the 2010 Carl Spackler Open in South Padre Island, TX. Jay Dilks came to play golf at Mountain Valley in 2011, dominated the tournament field with consistency, and won his jacket.
Andy Hanks carded two eagles in Round 2 in 2012. Then finished with birdies at the 53rd and 54th holes to win his Golden Jacket. Rob Hench opened the 2013 tournament in West Virginia with a long-putt birdie, took the lead, and never looked back. Gerry Long won the 2013 in Kentucky and 2014 tournaments was won by Allan Hench near Cincinnati, OH. Last year, Marty Whalen captured his golden jacket in Tennessee and then placed another on his father-in-law in 2017.
The Captains Club upgraded the Championship Trophy in 2007 and purchased 26 fitted logoed Golden Jackets in the winter of 2009 for past and future winners.
Returning past winners of the Carl Spackler Open will receive a fitted jacket for their closet and most importantly, to wear at Carl Spackler Open functions.
"We have a jacket for both the skinny Tom McCauley and the strong Jon Munksgard," says Jason Watson. "We are hoping to provide fitted jackets through 2025."
CFO Rick Dosky declined to reveal how much it costs to make the Golden Jacket. "That's something you can't really put a price tag on anyway," he says. "It's not about how cheaply or expensively it's made, but what it stands for to the person wearing it."
There are 87 golfers scheduled to do battle in Myrtle Beach starting June 7. The 96-golf party will get started with the annual practice round this Wednesday afternoon at Legends Resort.