March 28, 2019
Carl Spackler Open Moved
KALAMAZOO, MI — The 2019 Carl Spackler Open, which was halted in mid-March, is no longer in a halted status. The $70,000 event is transitioning 2 hours west to Kalamazoo, Michigan with the same dates and keeping the same airport. There are a few highlights to be considered for Kalamazoo, Michigan.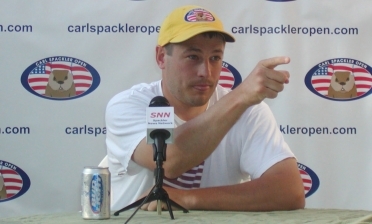 The Wednesday tee-times will not be traditional 12:00PM ish. They will likely be dual-tee or cross-over starting at 10:00AM for approximately 2 hours and 30 minutes. This could add a Tuesday night stay of your choice. Our rates in Kalamazoo will be $62 or $49 depending on hotel. People who already purchased airline tickets for Wednesday morning should call Greg Long.
The golf trip fee has already dropped by $10 to $519. Beers and Gatorades will remain $2.00.
There will be two hotels close to one another. The Baymont will be offered with another $52 discount. (Myrtle Beach golfers from 2018 likely have a $62 credit. Golfers from 2018 staying at the Baymont will eventually see $62 + $10 + $52 = $124 in discounts.)
The layout of golf course itself is changing like playing Mountain Valley (PA) or Raven (WV) one day and then playing Old Silo the next day. So the course is very good, but very different than Moose Ridge. Some greens are incredibly large exceeding 160 feet and with mounding as tall as most of you.
Nightlife is very close to the hotel and more options than we actually want. There are 8 to 10 breweries in the nearby area.
The Carl Spackler Open with 92 golfers plus a waiting list is a large organized ship that will turn around. It will be held at Angels Crossing Golf Club in Vicksburg, MI. There will be two hotels located next to the Kalamazoo Airport.