August 21, 2018
Jambone Seeks Treatment for Anxiety over Belt Defense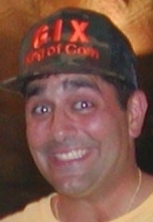 WHEELING, WV — Golfapalooza's 19-year veteran JT "Jambone" Thomas has never been one lacking in confidence. Even his Jekyll and Hyde golf swing, never knowing which one will be coming with him to Terra Alta from year to year, has never rattled him psychologically. But this reporter has learned that Jambone has sought both therapeutic and medicinal support for anxiety heading into his twentieth Golfapalooza.
Jambone has secured a record five King of Corn singles titles in his illustrious career, so it would seem highly counter-intuitive that he would have any issues leading up to a run toward another one. One Loozer close to Jambone, speaking on a condition of anonymity, explains that "this year is way different for JT. The first time he laid eyes on those brand-new WWF-style cornhole belts, he was in love. But going into every other Golfapalooza, JT always had the benefit of not knowing anything about any belts. This year, all he can think about is the belts, more specifically, losing his belt, and it is really eating him up inside."
The source also confirmed that Jambone has been having recurring nightmares that end with him handing over the belt to GStan or Sleepy. No information is available on what type of treatment or medicine Jambone has been trying, but he's got 22 days to figure something out.
In a related news item, Winthorp is on record guaranteeing a successful defense of his doubles belt with BDubs. Winthorp has been spotted on multiple occasions walking around the streets of Rockville Centre, New York wearing the belt and asking children if they want to take a selfie with him.