October 31, 2010
Rumors & Speculation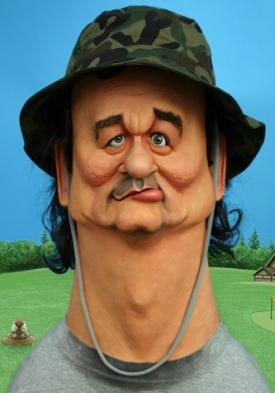 BARNESVILLE, PA — The 2011 Carl Spackler Open has a date, a location, and a fee. Most of the details are complete. Registration opened two weeks ago with checks arriving quickly and rumors surfacing daily.
"The budget for this event was set at 80 golfers," says Chief Financial Officer Rick Dosky. "The club continues to expect 70 to 90 golfers to head to Mountain Valley, but who exactly will show up is a truck load of rumor."
Dave Lauerhass suggests the tournament field will soar to three-digits. "There will be 100 this year," said a confident Lauerhass back in August 2010. "There is no way the attendance will not grow from 2009 and eclipse 100."
Lauerhass was asked how the attendance would grow 14% from 2009 and double from last April. Lauerhass snickered and said, "Just watch."
There are 14 participants who have signed to participate in the annual golf event. There are plenty of rumors to go around with 71 additional members indicating 'probable' or better as their chances for actual participation.
"Check is in the mail," wrote Bob Jastrzebski last week referring to a single check for himself and son. "Dosky has told me Mountain Valley is my kind of place. Looking forward to an easier golf course this year."
"Check is in the mail," wrote Greg Garrett, Richard Hetzel, and Scott Miller last week. "I am sending in $415 for Milam too," wrote Miller. "There is no point to waiting with a bed maximum."
"My friend is a moron and screwing me over," says Bill Bateson. "I have a wedding on June 11 and most likely not headed to Barnesville. The whole thing makes me want to vomit. Something needs to happen to this wedding so they postpone it for a month or two."
The current crapper, Mark Wray, had rumored to commit in May to only attend Carl Spackler Open's held during even numbered years, but then reversed his status when he provided a written commitment as 'probable' just this past October.
Other rumors include the return of 15 members who skipped the 2010 event. (Trent Cooper, Mike Davis, Chris Hays, Chris Milam, Randon Mineweaser, Matt Mogel, Jack Schone, Harold Anderson, Fernando Martinez, Grady Walters, Andy Hanks, Jay Glover, Tim Davis, Jean Dore, and Marty Zabonik.)
"The largest surprise is the recent written commitment from Joesph Butkus," says Captains Club member Jeremy Myers. "I think this has something to do with Yeungling Beer." Butkus has not attended since 2006.
Rookies Mark Vacca, Richard Hetzel, Michael Cole,and Michael Samoska have committed to attending their first major. There are another 10 rookies considering the event.
"85", says Captains Club member Greg Long referring to his target attendance number. "My conservative estimate was 80 from the start. Tis the season for 'I'm in', 'I'm coming' and 'check is in the mail'. I probably heard this 60 times in October, but 15 times from people who did not expect would be attending. I would imagine 5 checks from this batch of people will arrive before the Super Bowl."
The 2011 Carl Spackler Open will be held between June 9 and 12. The deadline for registration is January 31.