January 23, 2012
Last Call (January 31)
DELAWARE, OH — Dave Osborne, on behalf of the Captains Club, held the last press conference before the 90-day national signing period for the Carl Spackler Open expires. He provided some additional information while hitting balls at the range in Delaware, Ohio along with making himself available for a few questions regarding the tournament in southern New York.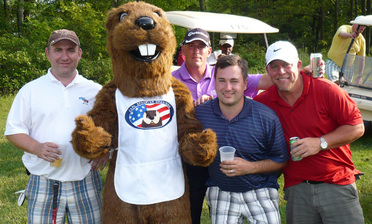 "Last Call! Everyone has a few remaining days to get their checks postmarked," said the 6-year member of the event. "January 31. 120 bucks. Non-refundable. Non-transferable. Any questions?"
Jon Munksgard, a 9-time member representing Pennsylvania, stepped forward with a couple of questions. "What do you think the biggest change will be this year?" Osborne thought for a moment and replied, "Hotel, golf course, and entertainment. The quality of golf course, hotel, and nightly entertainment collectively are almost uncomparable to anywhere except maybe South Padre Island."
Munksgard replied, "Sounds great. Are there any other notable changes?"
Osborne said, "We are sleeping, drinking and playing golf again. The core is the same, but the overall quality across the board is pretty special. The golf course conditions are expected to be the best ever in our 12-year history. The layout is Top 3. The hotel is our best ever, but probably not as nice as South Padre Island condos. The entertainment is very similar or better than the Raleigh event back in 2006."
Senior member Mark Wray said, "I have a question. What do you see as the biggest risk or disappointment going into 2012?" Osborne replied, "The largest risk is always weather. I would suggest the largest disappointments are the expected absences of Erik Shirreffs, Jean Dore, Pat Boland, Nick Casale, Rob Reustle, Matt Pritchard, Jack Schone, Ron Saxe, Jeff Tatum, Trent Cooper, Brian Flanagan, Kevin Long, Jr., Jason Ridgeway, John McAninch, Jeff Miller, and Chris Hays."
Dave Osborne glanced at his cell phone and said, "I will take one more question. It is cold out here and I need to hit the rest of these balls."
Jeff Tatum shouted, "Why are there so many people staying home this year?" Osborne replied, "There is one known pregnancy and one known birthday conflict. It is obvious to me there are other things of priority this year. I would rather talk about the guys who have signed like big-time-hacker Mike Lewis and our steak-eating-machine Matt Mogel."
The 2012 Carl Spackler Open begins in 134 days at Conklin Players Club in Conklin, NY. There are 60 to 72 participants expected to participate in the 96-hour golf party. Event registration expires promptly at 11:59PM on January 31, 2012. Paid late-entries will be collected and handled on April 18, 2012 when all cancellations are late-entries are known.