August 31, 2021
KGB Cup Draft Complete
WATERLOO, IL — The Sheiks vs. Geeks draft for the KGB Cup has now been completed. Match-ups are set. Team Sheik includes: Sheik, Honey, Winthorp, Butter, Jambone, Randy, KGB, Monte, Matthew H, Sleepy, Sensai, Kevin L, Larusso, SalPal, Bro, FunDan, DoubleG and Don W. Team Geek includes Walt, Whitey, Kid, GStan, Slick, Quack, Dosky, Caleb, Chef, Scoots, Spanky, BDubs, Spyderrrrrrrrrrr, Sizeten, Padre, Cane and MicroMonte. Your match-ups are as follows: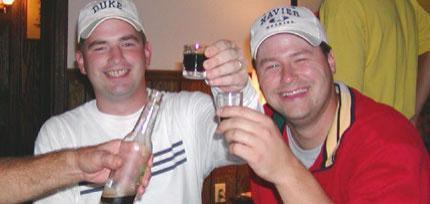 Group 1 – Sheik and Honey vs. Walt and Whitey
Group 2 – Winthorp and Buttah vs. Kid and GStan
Group 3 – Jambone and Randy vs. Slick
Group 4 – KGB and Monte vs. Quack and Dosky
Group 5 – Matthew H. and Sleepy vs. Caleb and Chef
Group 6 – Sensai and Kevin L. vs. Scoots and Spanky
Group 7 – SalPal and Larusso vs. BDubs and Spyderrrrrrrrrrr
Group 8 – Bro and FunDan vs. Sizeten and Padre
Group 9 – DoubleG and Don W. vs Cane and Monte Jr
Shirt colors for Team Sheiks - Black and Gold from GXXI
Shirt colors for Team Geeks - Hot Pink from GXX
If you have one of these shirts and won't be using it please bring it to share with a newcomer who doesn't have it.
All matches will have five total points at stake, with the exception of group three, which will be for four total points. This is a match play event. Split into three sets of matches per group. The first six holes will be A vs A and B vs. B, each match worth one point. The second six holes will be A vs. B and B vs. A, each match worth one point. The last six hole will be two-man best ball match, worth one point. Group three will play two nine-hole matches, with Slick playing his ball one on one against both Jambone and Randy at the same time; two matches on the front nine, two on the back, for four total points.
This is a handicapped event – your scorecards will be marked in advance with where strokes are applicable based on your handicap. This is our latest start time of the week, with tee times beginning at 1 pm. While we want everyone to get their swings in, with this being a match play event, everyone is encouraged to concede holes when appropriate when its obvious who is going to win the hole. Let's keep up pace of play please.
Finally, these teams and pairings are subject to change if Loozers who have committed to participating in this event end up dropping out. 15 days! Can't wait!!