May 13, 2011
Cole Boosts Outlook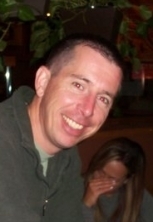 MARANA, AZ — The Carl Spackler Open has signed another rookie to compete in 2011 major championship. Mike Cole of Marana, Arizona signed in January and will be the second furthest golfer to participate behind Tim Davis.
"Cole has tremendous success at the regional level," noted Vice President of Player Recruitment, Jason Watson. "Cole is a Warren Area High School graduate from the same class as four of our Captains Club members."
Watson reading from a scouting report added, "Cole has shown great ball control for several years. Combined with his mental toughness, he has the ability to shoot bogey golf consistently. He adds great depth to a large group of bogey golfers."
Cole lives very close to Tom Henkel's winter home near Tucson. They play the same golf courses.
"I have always wanted to participate in the legend of the Carl Spackler Open," says Cole from his home in Arizona. "I am flying my family to Charlotte and driving to Barnesville, which shows my deep interest in the event. I am looking forward to the opportunity to bring home a Golden Jacket to the state of Arizona and the United States Military."
There are 14 states plus the District of Columbia being represented in this year's event.
"I am most looking forward to seeing some old friends and classmates that I have not seen since 1988," added Cole. "Whenever I get to travel back to the great state of Pennsylvania, I enjoy drinking beer, and there is no beer better than Yuengling, so the tour is definitely a highlight. I want to say thanks to the reigning major champion Mr. Jeremy Myers for the invitation."
Cole becomes the first golfer in tournament history to acknowledge facebook.com's role in his attendance.
The 3rd active military participant is expected to receive 1 point for double-bogey, 3 points for bogey, 4 points for par, and 8 points for birdie while in Barnesville, PA.
"I still need to talk to Brewster and Kreer about the morning runs," says Cole. "I think it would be a great idea to offer a morning run to the field of players. A few miles starting around the 5:33 sunrise would be great for everyone trying to burn off that beer fat and bar food."
The 2011 Carl Spackler Open will hold an optional practice round on Thursday, June 9. The round will use a shotgun start with the practice range opening at 7:00AM.