July 19, 2017
Kess Wins in Dramatic Fashion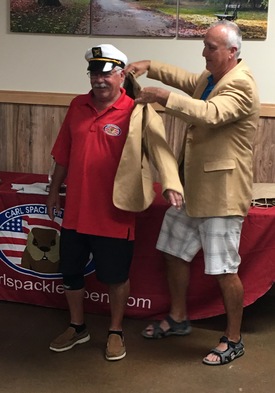 BARNESVILLE, PA — Kess McLennan arrived at the 2017 Carl Spackler Open with an empty trophy case. In fact, he did not own a trophy case. He left Barnesville, PA as a major champion and something for the state of Michigan after edging out several contenders to win the Open.
McKennan grabbed everyone's attention. He wasn't succumbing to the moment, crosswinds or age. He knew how to finish. Kess made us certain that the most competitive golf story of the year was going to get every last effort and end with him putting on a Golden Jacket.
"I think it's awesome," said McLennan, who shot 18-over 90 in the final round. "I'm hesitant and will speak out adamantly about not comparing my senior win to Gerry Long's 2014 wiin. I think that's unfair to other seniors who have beat these young kids. However it proves the older guys can win. It's really cool to be out here at my age, to experience what we're able to experience, and play golf in a competitive environment. It was an incredible week on the mountain."
Brian Long, Jon Munksgard, and Justin Gorby all had their chances to win the Open down the stretch, but only Kess kept scoring hole after hole. McLennan stayed in the hunt through rain delays and very wet conditions with 17 bogeys and a 12 pars. More importantly, he carded zero points just 4 times over 54-hole tournament. He scored 72 points in the final round and sat the clubhouse lead for nearly an hour.
"I have no idea how this week will end," Kess said earlier in the week, after he quietly finished the opening round outside the Top 10. But by the back nine on Saturday, he and everyone else had seen enough to know exactly what he was going to do. He was going to make a strong run at his first major.
Kess McKennan won the 2017 Carl Spackler Open, Golden Jacket, Danny Noonan Award, Golden Hat, and two Championship Trophies. He also took home a $300 credit to the 2018 Carl Spackler Open. He won the tournament by 2 points over Jon Munksgard and Brian Long.
The Carl Spackler Open was held at Mountain Valley. The tournament. Was delayed twice by rain and once darkness. The 75 players battled throughout the week for a chance to become a Champion. Kess, from southern Michigan, kept the Championship trophy in-state one year after Marty Whalen won the Championship in 2016.